Learn how to identify threats. Improve cyber hygiene. Limit exposure of sensitive information.
Build your human firewall.  With so many systems, applications, access methods, and the 'always on' nature of our computers and smart devices, it is a commonly held tenet that we humans are the last line of defense in cybersecurity.  By educating staff on secure authentication methods, identification of various attacks, how to respond to incidents, and many others, we can reduce the effectiveness of bad actors.
Training Options
At Bound Planet, we provide various training options for businesses. We can combine options and custom tailor content based on need or audience.
Small Group
Custom content delivered in person or via webinar, tailored to current trends in the security landscape. Sample topics:
Multi-factor authentication
Password management
Resources for cyber incident response
Attack identification
Computer/smart device use best practices
Email best practices
Encryption basics
Securing small office / home office networks
Featured Content – Embracing a Zero Trust Mindset (45-50 minutes)
Our 'Embracing a Zero Trust Mindset' training has been built for delivery to staff via small group or video conference to improve skills to effectively deal with various threats that are encountered throughout our work and personal lives.
Topics:
Cybersecurity Landscape: Recent incidents, current trends, future planning
Threats:  Attacker categorization, social engineering, web application attacks, insider threat, malware, malicious hardware, others
Embracing the Zero Trust Mindset:  Applying zero trust to everyday interactions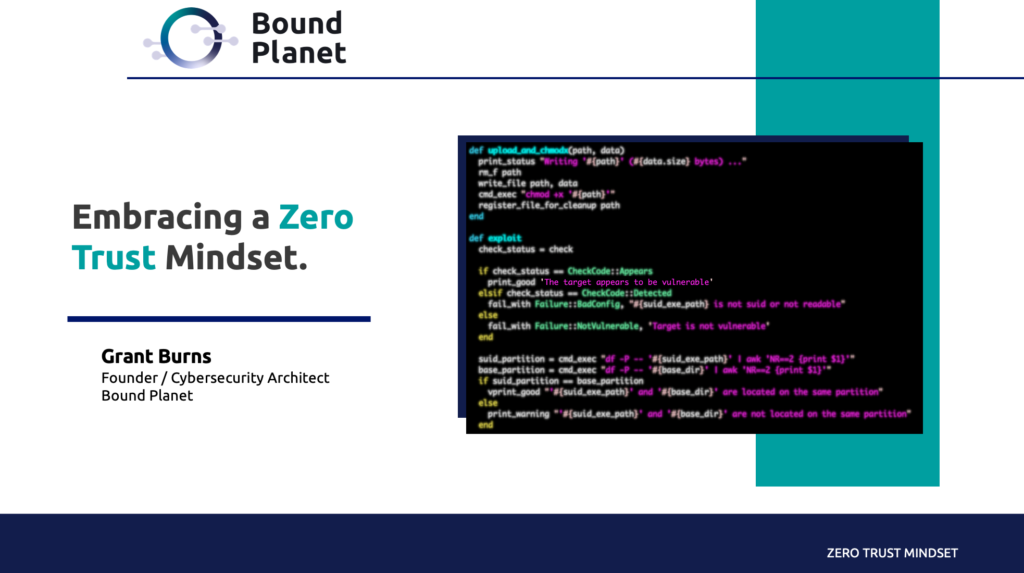 Featured Content – Cybersecurity Everywhere (50-55 minutes)
Our 'Cybersecurity Everywhere' training focuses on what employees need to know currently and what is on the horizon.
Attacker motives, trends
Social engineering, the AI influence
Cyber hygiene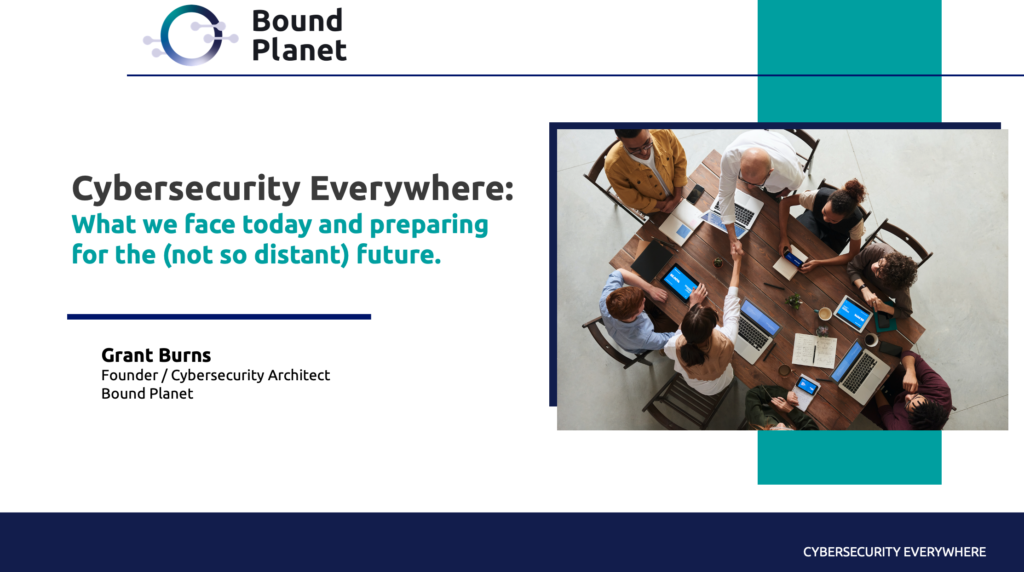 Educational content and assessment via email

Cybersecurity video content, educational info-graphics, quizzes, and simulated phishing campaigns delivered via email. This training method provides a simple learning management system that can track when employees have viewed or completed certain content, indicate whether or not an employee has opened a simulated phishing email, and others. Bound Planet manages the configuration necessary to enable delivery of content as well as execution of campaigns. A review of results and status will be conducted with designated contacts.