Our Process
Bound Planet has developed an approach for businesses seeking to develop, augment, or manage cybersecurity programs whereby various phases provide functions necessary to support a variety of goals. Additionally, cyber programs must operate efficiently and evolve continuously. Our process includes various phases with several engagements no matter where you are on your cybersecurity journey.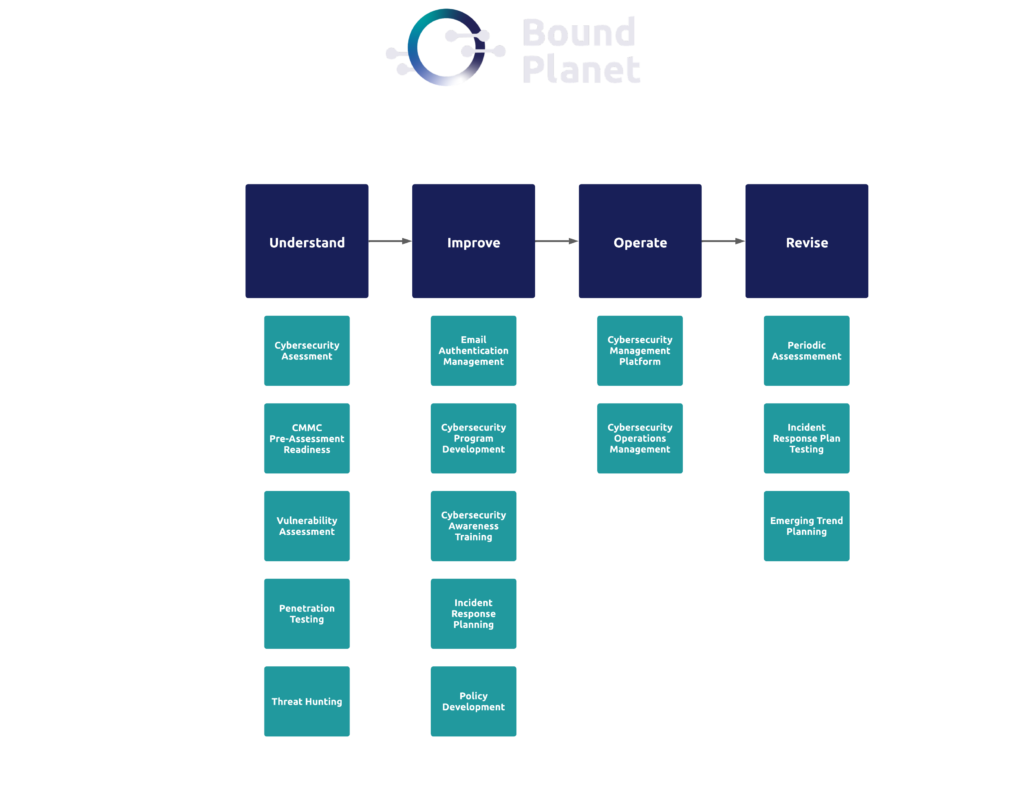 Understand
The understanding phase consists of various engagements to establish a baseline. The assessment process or framework utilized may vary depending on requirements, however we can't determine where we are going without knowing where we are at.
Improve
The improvement phase focuses on planning, implementation, and cybersecurity program development. Requirements vary, and Bound Planet provides flexibility for defining the scope of our engagements. Bound Planet provides various focused services such as Cybersecurity Awareness and Training, Policy Development, Incident Response Planning, and others that align directly with framework requirements.
Operate
The operate phase begins once the program has been implemented to a sufficient degree. Various program elements require periodic upkeep, and this phase includes services analogous to CISO functions. Knowledge transfer, periodic assessment, and other activities occur to support program function.
Revise
Cybersecurity evolves continuously. Businesses, requirements, threats, technologies, and many other aspects change constantly. In order to ensure the appropriate protection of assets, a cybersecurity program must also continuously evolve. This phase includes planning and assessment for mature cyber programs to maintain effectiveness.